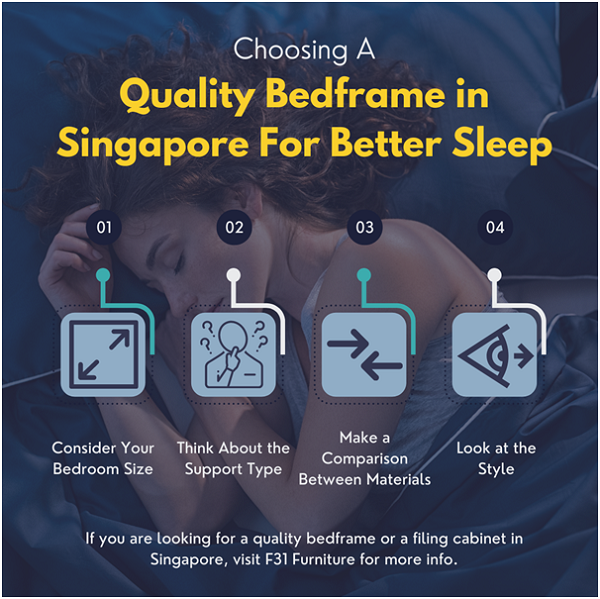 Choosing a bedframe can be an afterthought for some people. Unlike buying a sofa or a dining chair in Singapore, many of us rarely have thought about upgrading or purchasing a new bedframe unless the problem becomes apparent.
People spend an enormous amount of their lives sleeping, and on average, the total amount of time can reach 26 years in a lifetime. With that kind of time we spend, it's vital to invest in a quality sleeping system—it includes your bed's bedframe, apart from the mattress. Without further ado, here are some tips on how to buy the best type of bed frame for a night of quality sleep:
Consider Your Bedroom Size
Even if you plan to purchase a super single mattress in Singapore instead of a bedframe, it's vital to look at your bedroom's size. You have the liberty to choose whatever size you want. However, you might end up compromising your space. Considering your bedroom's size will help you pick the right choice in terms of design and convenience. For many, having 2 to 3 feet on the sides and end seems a better choice for better space.
Think About the Support Type
Every mattress will need solid support that is robust and long-lasting. Choosing bed frame support is more than just having a preference or taste for aesthetics. Without proper mattress support for your bed, your mattress will wear prematurely. Sagging can also be a problem for concern. For some homeowners, buying a platform bed can be an ideal option since it already has built-in support. On the other hand, you can go for box springs.
Make a Comparison Between Materials
Material is a critical aspect to look at when buying furniture, from a  bedframe to sofas or a dining chair. In almost every bedframe in Singapore, metal and wood are the most common material choice you will encounter, and both are robust in their own right. However, they have a difference in terms of appearance and quality. In wood frame materials, you can expect to find solid hardwood and wooden frames (as an example). Thus if you want to determine the quality, check the frame's joinery system.
Look at the Style
Style and quality go hand in hand when buying a bedframe or any other household furniture. If your bedframe will be visible after putting the mattress, your frame's style and design will become an apparent consideration. For example, you can go for a highly ornate frame for a traditional style or an aged-finish look for a classic and rustic appearance.
If you are looking for a quality bedframe or a filing cabinet in Singapore, visit F31 Furniture for more info.