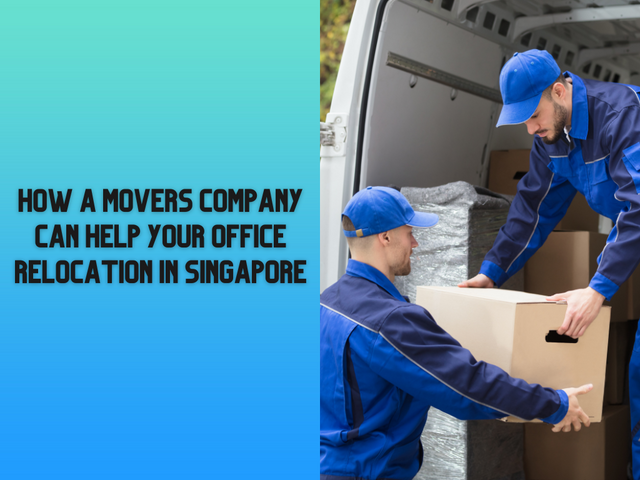 An office relocation is not uncommon in Singapore. Companies change addresses to accommodate more customers, cut operating costs, or bring their businesses closer to their employees' homes. They may also move to a different establishment in another location to make room for their growing team or even consolidate their workplaces to make their organisation more efficient.
But no matter the reason behind an office relocation, changing a place of business can be stressful and overwhelming for company heads and their team members. It may boost employee morale and encourage them to be more motivated and productive, but switching office locations can impact their efficiency during the relocation. They may feel distressed about undergoing a massive change in their work lives, which is enough to make them feel distracted.
Additionally, an office relocation may not please every employee—especially if their boss asks them to move their workstation by themselves. Since workplace transportation is not a part of an office worker's list of responsibilities, they may find their company head aggravating for requiring them to fulfil a duty they are not supposed to do. Fortunately, business owners like you can hire expert movers from a moving company in Singapore to assist with your relocation.
Can A Moving Company Help Your Office Relocation?

A moving service provider in Singapore offers various solutions to residents who need to transport their belongings from one place to another. But aside from providing homeowners and entrepreneurs with house and office moving solutions in Singapore, moving companies can also help people neatly pack their possessions and keep them in secure storehouses. They can even bring cardboard boxes and bubble or cling wrap rolls at an added cost and keep belongings safe in a storage unit until their clients need them.
Nowadays, moving companies have become prevalent in the city-state. Whichever town you are in, you can find an enterprise offering solutions that would help you and your team move into a new location. But despite the prevalence of office relocation service providers in Singapore, numerous business owners are still unsure about hiring experts to help with their move. Some believe hiring movers would cost them a fortune, while others think their employees could handle the stressful relocation process.
While working with a ‌moving service provider in Singapore will cost you money, getting such solutions will help ensure your relocation's effectiveness. You will also reap the following perks for hiring the best office or house moving experts in town:
1.  A Moving Company Can Safely Relocate Your Possessions
Office relocation can be risky—especially if you will be transporting fragile equipment, devices, and tools that help your employees perform their work responsibilities. While you and your team members can personally bring these machines and accessories to your new workplace, relying on the expertise of moving service providers can guarantee your possessions' safety as they travel to your latest business location.
Office relocation service providers in Singapore undergo rigorous training to understand the art and science of transporting goods of various types and sizes. They also know the correct way to secure boxes and lift furniture pieces to keep them from falling or toppling while taking them to a different location. Thanks to their knowledge and expertise, you can ensure that your computers, printers, desks, chairs, and filing cabinets are safe and snug on the way to your new place of business.
2.  A Moving Company Can Quicken Your Relocation
Entrepreneurs want to complete their office relocation as soon as possible to keep their facility's downtime minimal. If they change workplace addresses quickly, they will prevent excessive revenue loss and keep their employees from feeling distressed about their move.
You should consider working with a professional moving service provider who has received proper education and training for transporting precious cargo to various locations if you want to get over and done with your office relocation in Singapore. These experts are agile and can navigate maze-like office bullpens, hallways, and staircases. They are also familiar with the quickest routes in the city-state and help you get to your destination as soon as possible.
3.  A Moving Company Can Minimise Relocation Expenses
Hiring movers from a reliable company in Singapore will cost you money. You will need to settle their service fees to pay for their assistance with your move. However, getting their services can lessen your office relocation expenses through their all-in-one solutions. Some moving service providers can even offer you discounts and promo vouchers to further minimise your relocation costs.
Depending on your chosen office relocation service package in Singapore, you may need to purchase bubble wrap, cardboard boxes, and cling wrap with company funds. However, working with movers can minimise transportation expenses since their solutions are cheaper than renting a truck and hiring a driver. Moreover, you may not need to settle gas or toll fees with professional workplace and house moving experts since they often include these costs in their relocation packages.
Hire A Moving Company For Your Office Relocation Today!

Office relocation is undoubtedly one of the most stressful yet rewarding endeavours a company can undertake. Business owners like you may encounter various mishaps while moving into a new workplace address, affecting office productivity, efficiency, and profitability. Your customers may even find your move troublesome since they will need to adjust to your different location.
However, office relocation around Singapore can bring success to your company. It can motivate your team members to perform better and allow you to access a wider audience. You can also hire new employees to grow your workplace family and bring better-quality products or solutions to your customers.
But if you find relocation too overwhelming or stressful, working with a moving service provider can help make your relocation easier. Through their knowledge and expertise, you and your team can rest easy knowing that your equipment and tools are in agile, safe, and capable hands.
Are you planning an office relocation soon? Let Yi Yun Movers help you! Visit their website below to learn more about their expertise in helping business owners like you take your workplace to a better location.