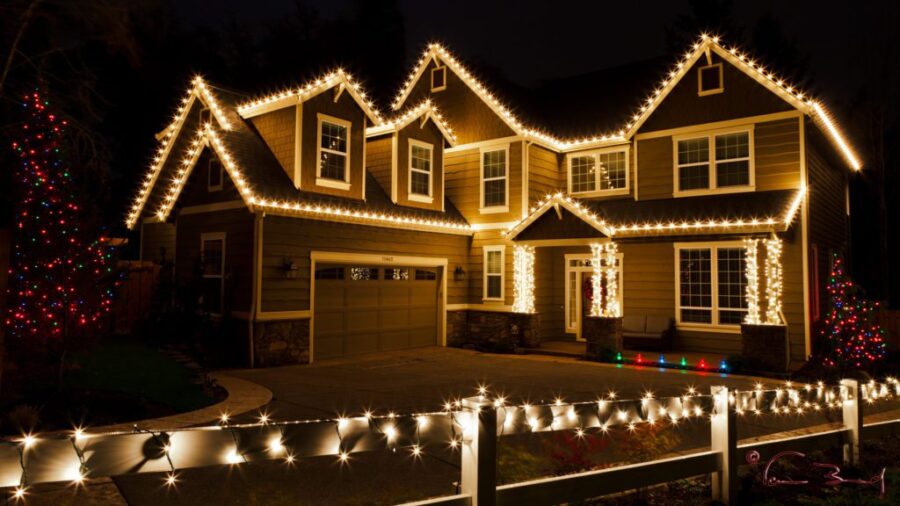 Christmas Lights are a holiday delight for both the local neighbors and homeowners. However, whether your Christmas Lights be for your home or your business, Doing It Yourself is a risky idea.
The possibility of climbing up on a ladder and falling is rather high, and no matter how simple or how decorative your Christmas Lights are if you are nursing a bad back or broken leg due to a dangerous fall, you will likely not be in the holiday spirit.
Leave your Christmas Installation to Us
We are Todd and Kyle, two brothers, who have been in the business of Christmas Lights installation for the last 7 years.
Our website, Utah commercial Christmas light installation.
In fact, we have done so many Christmas Lights installations that we dare say we are the best in all of Salt Lake City and beyond.
Several Secrets to our success
We have several secrets to our success and help us back up our claim to be the best. The first is that you buy the lights from us, and then we install them ultra professionally. Unlike many other installers, we not only have the experience to install your Christmas lights without a hitch but we back it up with the very best in customer service.
Whether your Christmas Lights have 500 lights or half a million, as some homeowners and businesses go all out, you all know that time and time again, Christmas lights go out. And quite often, at the very top of the decoration.
As a consequence, it's not uncommon for a homeowner or a business owner to climb up a ladder several times during the Christmas season or send an employee up in a perilous position.
Not with us.
Not only do we sell and install the very best Christmas lights in vibrant colors of Warm White, Cool White, Green, Blue, Yellow, Purple, and Orange, and while the lights are C7 LED SMD, the best of the best, if even a single light goes out among thousands, we make it right. We come out to your business or home and replace it as soon as possible during the entire Christmas season.
Another factor that sets us apart is that we have liability insurance, so you can rest assured that you are fully protected with your Christmas Installation.
Not only do we install your lights to your satisfaction, and have experience with many design options, but toward the end of the holiday season, we come back out and take them down.
And we make it so very easy, to install your lights. In most cases, you do not even have to be home, just leave your porch lights on and be sure the outlets are turned on to power the lights.
And once purchased, the lights are yours to do as you please. Most people hire us, again and again, to install their lights because we do such a stupendous job, and if you wish, we will even store your lights for free at our facility.
Come peruse our Website and see what lovely creations we create and then think of us even in September, a couple of months before Christmas to have the Christmas Light Installation of your dreams.