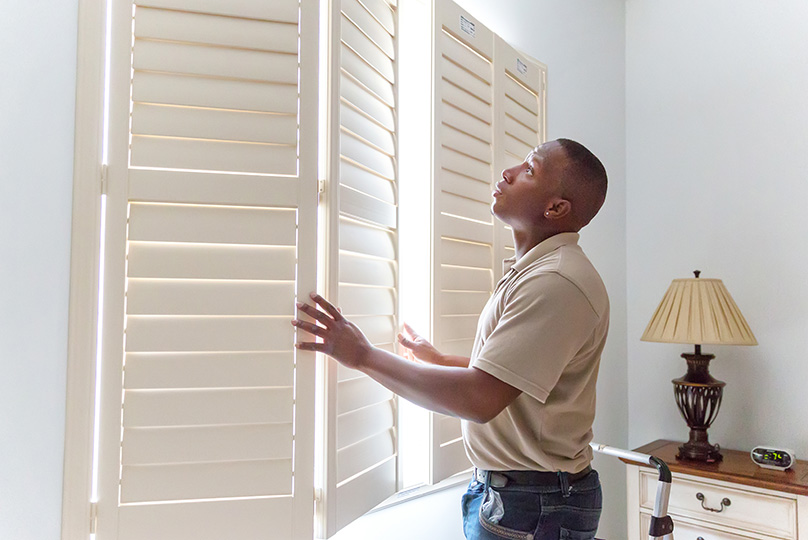 Still unsure about whether or not shutters could serve as a suitable substitute for your curtains? Continue reading to obtain further information.
1. Compared to blinds or drapes, shutters are significantly simpler to maintain and clean. In most cases, a simple wipe or vacuuming is all that is required to get the job done.
2. People who suffer from asthma and allergies can consider installing window shutters since they trap less dust than other window treatments.
3. Shutters can be constructed with multiple pieces that open independently from one another, allowing light to enter while maintaining privacy.
4. Curved or round windows can be highlighted by the use of shutters.
5. When closed, window shutters take up very little space and do not obstruct your view of the room. They may also be used to cover windows that are located over heaters, which prevents warm air from escaping.
The majority of shutters, even though they come in a wide variety of designs, can be categorized as follows:
Board and Batten Shutters
These shutters are formed of individual boards that are connected by a strip of wood, as the name of these shutters suggests. They are typically found in homes with a colonial or simple style, and they are available in either a fixed or a functional style. In addition, you can accomplish a do-it-yourself project with these shutters.
Louvered Shutters
Louvers are narrow slats that may tilt to adjust the amount of light and air that enters and exits your window. The louvered shutters that are typically found on cottage-style homes have anywhere from two to three rows of louvers that run horizontally. The width of each louver can be separately adjusted in double-hung variants of these shutters, even though they are most commonly used for ornamental purposes and are fitted as such. Plantation shutters often come in pairs to cover a single window and have broader louvers than other types of shutters.
Shutters With Raised Panels
If you've ever seen raised panel cabinets, you're already familiar with the appearance of raised panel shutters; each separate piece has a "door" that is constructed of raised panels. These external window treatments are a popular choice for historic homes, cottages, and country homes due to their unique appearance and the fact that they give appeal to the outside of your property.
Shutters of the Combination Style
These window coverings create a distinctive appearance by combining two different designs. For instance, you could select board and batten for the lower half of the window, and louver for the upper half (this combination is commonly referred to as "café style"). Alternately, you might go with two louver parts that are smaller than one raised panel section that is more extensive (also known as the "Z pattern" when arranged vertically). If you want to create something that stands out from the rest of the crowd, the possibilities are virtually limitless.
When you desire shutters, the aforementioned choices provide you with a good indication of what kinds of things you ought to consider looking into. The finest part is that you may use them not only for their intended use but also for the general decoration of your home.