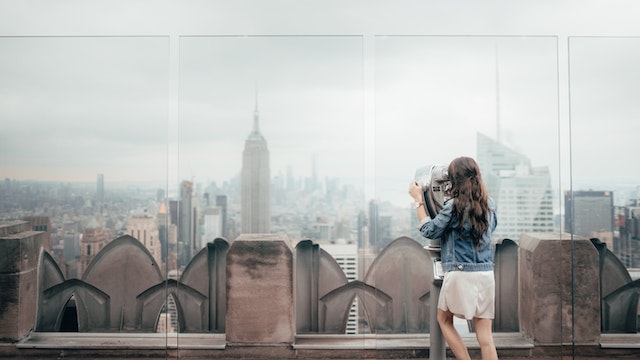 Buying luxury properties is always a very involved and complicated process. After all, there's a lot more to consider compared to a normal property. And, to be completely honest, luxury real estate is much more exclusive, which leads to its own challenges. However, this gets even more complicated when it comes to New York City luxury real estate. So, before you go looking to buy a luxury home in New York City, you should know what you're doing. From where to look to how to handle the entire process, you'll want to be well-informed before getting started. And in order to help you out, we put together the luxury home buyers' guide to New York City real estate, and we hope you find it informative.
Keep up to date with real estate prices
First up on the luxury home buyers' guide to New York City, you need to stay up to date with current real estate prices. At the time of writing this guide, the average price of luxury real estate in NYC is $7,649,618. The entry threshold is much lower, at $3,240,000, but expect to make some big compromises if that is your budget. Once you know what the current prices of luxury properties are, start planning your budget. This should include the price of the property as well closing costs and other hidden costs. And, of course, remember to consider moving costs as well. Familiarize yourself with moving estimates, so you can more easily fit these costs into your budget. Knowing what you're working with and how much money you need is only the first step. But, arguably, it's the most important step of the entire process all in all.
Make a realistic wish list of home features
Whether you're buying the property for yourself or as an investment, the next step on the luxury home buyers' guide to New York City is to make a wish list. Sit down and think about which home features you absolutely can't live without. Then, make a list of features that can be compromised on. This way you can narrow down your search, which makes the process much faster. It's important to keep the list realistic, as it's pretty much guaranteed that no property will have everything you can think of. And remember, you can always invest in home features the property doesn't have. And when actually moving into one of these properties, remember that you can easily find help in the area. When it comes to NYC luxury homes, you really shouldn't take any risks when moving in, so local experts are the best choice for keeping your investment safe.
Know where to look for luxury real estate
Most luxury properties aren't just listed in housing markets, and you need to know where to look. Real estate brokers can point you in the right direction, but first, you should decide where exactly you want your property to be. In general, most NYC luxury properties can be found in Manhattan, and this is your best bet for finding something. That said, the other borrows have some luxury real estate as well, so really it comes down to your preference. Once you know where you want the property to be, speak with a broker in order to actually find potential properties. And when moving into your new home, remember to think about securing your belongings properly. After all, the last thing you want is for something to get damaged during transit. If you're unsure how to go about packing, you can always hire professionals to help you out.
Learn how bidding wars work
Especially in New York City, luxury properties are very heavily contested. This means that, in order to get your hands on one, you'll likely have to go through a bidding war. However, when engaging in a bidding war, there are a few very important things to keep in mind. You should only fight for the property if it's exactly what you want, or if you have the money to pay more than the initial offer. Bidding wars are a very easy way to drain your budget which is, needless to say, pretty bad. So, remember to be careful, and only engage in bidding wars if you can realistically afford it. And if you're doing all of this long distance, remember to plan your long distance move properly. Long distance moves are more complicated to organize than regular moves, so remember to take the necessary precautions when going through one.
Keep in touch with the NYC real estate market
Whether the market is currently in favor of sellers or buyers can be a big part of buying luxury properties. In a seller's market, properties sell quite quickly, and they tend to sell near or at the listed price. In a buyer's market, you can get away with making offers that are lower than the listing price, in a seller's market, mortgage contingencies are typically rejected. On the other hand, in a buyer's market, mortgage contingencies are standard fare. Understanding what kind of market you're working with is incredibly important for the buying process. So, make sure to keep an eye on the local market and follow the situation closely. This will allow you to make plans and act on them accordingly. Remember, when it comes to luxury properties, any kind of advantage you can get is important. And this kind of knowledge is a pretty big advantage.
Luxury home buyers' guide to New York City – wrap up
There is quite a lot to keep in mind when trying to buy a luxury home. Buying a regular home is complicated enough, but when it comes to luxury properties, the process gets a lot more complicated. And, yes, a lot of this is because luxury properties are much more expensive than regular properties. Regardless, you still need to know what you're doing in order to buy a luxury home for yourself, especially in NYC. We hope that this luxury home buyers' guide to New York City helps you out, and we wish you luck.